At Savannah River Realty we are here to give you the best possible experience possible while visiting our area. Our team of experts has been chosen for that very purpose, to make the most of your time and to share their vast knowledge of the community and all the possibilities. We have the largest inventory & were involved in 61% of all sales in Savannah Lakes Village for the year 2015. We have a proven record for listening to your needs and finding you just what you are looking for. We show all the homes that are on the market, not just those on the MLS, giving you three times the selection. Why settle for less! You can feel confident with any agent you choose to work with:
---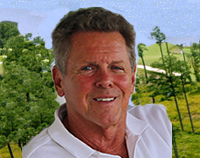 Michael Sherard:
Designations & Affiliations:
When SLV opened April 1, 1989 Michael was the first salesman to hang a real estate license and had the honor of selling the first lot ever! During the past 28 years he has helped over 1,000 families purchase their home, or home site, at SLV and nearby communities. He is a partner in Savannah River Realty, holds his Broker's License and is also Chairman of the Abbeville Area Hospital Foundation.
Services He Offers:
He will keep in touch through e-mails, toll-free numbers, both in the office and at his home. His website is kept current daily with all the new listings. Upon your arrival he will have made all the appointments of homes for consideration along with a detailed brochure of those houses filled with information and photographs. He can set  reservations, tee-times, lodging and general facts about the area and can answer just about any question(s) that may arise. As a local he stays current and am committed to helping at any time for any reason. To help you get around when you visit our area he has written a detailed booklet, "PLACES TO GO WHEN VISITING SAVANNAH LAKES VILLAGE." It gives directions to various places of interest, restaurants and shops in McCormick County, where SLV is located, Historic information about Abbeville, Greenwood, McCormick and Edgefield Counties as well as Augusta, GA.
Strengths & Motivations:
His upbringing taught him that ethics and honesty along with hard work would be the keys to success. Coupled with his belief  and strong convictions, those attributes are passed down to you when he becomes your agent. All potential property owners can rest assured he will make every effort to find the home site, pre- owned or new model home per your desires and specifications. He will continue to provide all the help and support needed to make a smooth transition to our community so it will become a truly enjoyable and memorable experience as you become a part of our "family."

Personal& Community Interests:
His wife, Wanda, and him are native South Carolinians growing up in Abbeville and Anderson Counties. Wanda has retired after 29 years as a fourth grade teacher with the Abbeville School District. He is a third generation offspring of a family business started in the early 1916s which evolved into cotton, cotton ginning, and ranching with Charolais Cattle and Quarter horses. Before his real estate career  he was the manager of his families farming operation and opened Sherard's Feed and Seed, a division of the parent company.
Prospective SLV Owners:
Michaels commitment to you: No one knows the area better than him, therefore he will work tirelessly to help you find the perfect dream home. Savannah River Realty has the largest inventory of homes for sale in our community. Not only do you have access to all homes on the MLS, but those that are not, giving you three times the selection of homes.
---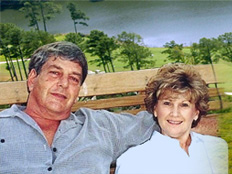 Bob and Theresa Bryan:
Bob was born in Stillwater, Oklahoma, Bob's father owned the Cadillac dealership so his love for cars started at a very young age. Though cars were his hobby, along with  football and wrestling, Bob became a real estate agent when he was just nineteen. By the time he was Twenty one he had become a Broker and had gone into partnership with his  parents as owners of the Bryan Real Estate Company. There he earned his GRI (Graduate Realtors Institute) CRS (Certified Residential Specialist) and CRB (Certified  Residential Broker) When Bob was 32 he took a bit of a detour and purchased a Santé Fe Train Station in which he renovated and worked hard to have it put on the Historical  Register. He then  opened it as a full service restaurant, The Stillwater Station, until his wife Theresa said, "SELL".  She wanted warmer weather so Bob took his family South to  Georgia.
In 1990 he went to work with Cooper Community's, the original developer of Savannah Lakes Village. In 1999 Bob opened up Savannah River Realty. Cooper Communities had pulled out of the area, but Bob had fallen in love with the area and had no intentions of moving. He again took a rundown building and renovated it into his offices that he still uses today.
Bob and his wife Theresa work as a team and love what they do, meeting new people and finding them "a little piece of heaven" too. They live on the lake and can be found jet skiing, boating, gardening, swimming, and some might call it "working."
Theresa was born in Saint Paul Minnesota, Theresa came from a family of 12. Both her parents were also Real Estate Agents.  Growing up with so many brothers and sisters, Theresa learned to cook at a very young age. Her conversation skills were also honed, as you had to learn to speak up in such a crowd. She has owned and managed many restaurants but her real love has become real estate. She also went to work for Cooper Communities and worked with Bob as his partner selling property in Savannah Lakes Village.
Though she is far away from home she is never lonely as almost all of her brothers and sisters come to visit, and often. 
Living on the lake affords them a great space to entertain old and new friends. It is a lifestyle she never wants to give up, after all, how many can say they vacation where they live.
Our business motto is: Treat everyone as you would your mother.  Always be honest and kind, be creative in all that you do, learn as much as you can, and most of all, Love life.
---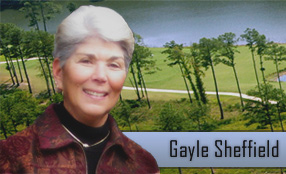 Gayle Sheffield:
Gayle moved to Savannah Lakes Village along with her husband, Alan, in 1996. They were not of "retirement age" then (just 48 and 50 yrs. Old), but were tired of the rat-race, traffic and pollution of the "big city." They both were able to move our jobs to Savannah Lakes and continue working "remotely."  Galye was working as a "Software Support Technician" for a Small Business Accounting Software Program. Her in-home office overlooked the 15th Fairway of the Tara Golf Course. After only a few months of being "stuck indoors", she decided to "Break Out! She was asked by a local real estate company and builder to get my real estate license and begin helping them bring new residents to Savannah Lakes Village. She was delighted to have the opportunity to share her love for Savannah Lakes Village and the surrounding area, and to help potential new residents with their search for the perfect "Retirement Destination!" She has been working in real estate in and around Savannah Lakes Village and McCormick County for almost 16 years, and have been named "Top Producer" several times. She feels so fortunate to have been able to "Live the Retirement Dream" for all these years without actually having to wait to retire. Her husband and her have 4 children and 5 beautiful, healthy, and active grand-children. She has a BS in Business & Management from The State University of New York at Old Westbury, as well as her Brokers License. Both enjoy spending our free time on our beautiful Lake Thurmond, playing golf, and socializing with all our "new" friends. If she can help you with any of your real estate needs or if you have any questions about Savannah Lakes Village or McCormick County, give her a call on her cell phone, 864-378-0777 or send an email to: Gayles@wctel.net
---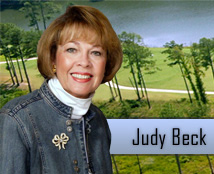 Judy Beck:
Judy started her real estate career over 25 years ago in her home state of North Carolina.  Her husband, Warren, and her were both born and raised there and thought that's where they would live out our lives.  However in 1991 they made a life changing discovery, they were introduced to a wonderful lake and golf community call Savannah Lakes Village.
They took the tour and immediately decided this was the place they wanted to be.  They purchased a waterfront lot and began building, as house number 37.  That was 23 years ago.   They are still here in this lovely setting and enjoying, what both believe to be the "good life".
Warren has played golf most of his life, but Judy didn't even own a set of clubs until moving here.  Now she plays with a great group of girls that are like sisters to her.  They go on golf and shopping trips, play Bunco and have our martini parties. Sometimes they let the guys in on their fun with a monthly couples golf group with dinners afterward.  Both of them would have never thought they would meet so many wonderful people,  all with a common interest…having a great time and living life to the fullest.
She has enjoyed her career in real estate in Savannah Lakes Village.  It has been so rewarding for her to find THE PERFECT HOME for her clients.  That home is waiting for you to start having the "time of your life".
If you would like to talk with her, call 864-378-9627 or Email: judymbeck@wctel.net
---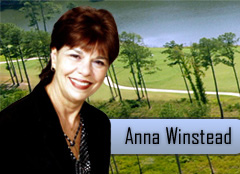 Anna Winstead:
At an early time in my life, Anna realized that Savannah Lakes Village was a community that would allow her to enjoy lake living, the outdoors and sense of community all at extremely reasonable prices. So, in 1989 she and her husband  decided to jump at the opportunity and bought one of the first lots in Savannah Lakes Village. And, in 1990 they were issued the first building permit in the Village. For family reasons, they had to relocate back to the Augusta, GA area for a few years. Due to the lure of the lake and its fun loving ways, they returned and Grant and her built their dream home on the lake in 2007. Lake living is the best and it serves as the perfect place for gathering of their children and family, as well as friends to enjoy the many attractions that ONLY SLV can offer all at affordable prices. Where else in the Southeast can you enjoy many, many friends, championship golf at unheard of low green fees, and boating on a 70,000 acre, no traffic lake known for some of the best fishing in the country. They enjoy many of the amenities described above in addition to tennis, hiking, bowling, indoor and outdoor pools and the list goes on and on.  With over five years in real estate business, and 25 years of senior management skills in medical management,Anna has the proven skills and the drive to manage all of your real estate needs from planning exclusive on sight tours to hassle-free successful closings. She can bridge all of your concerns while helping you find that perfect lot or home for the next chapter in your life.
---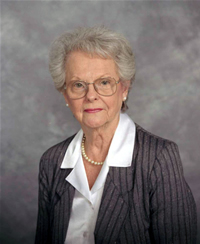 Dot Sherard:
She was born and reared in the foothills of Oconee County on the banks of the Keowee River, Cherokee Indian Country! I left to attend Lander College (now University) in Greenwood and that is where she met her husband to be, Frank Sherard. He was in the family business in Calhoun Falls, so that is where they settled, reared four sons and now her family numbers twenty one. Twenty two years ago her husband encouraged her to take the real estate course as he was a Broker. With trepidation she did just that. The Sherard Family's ancestors, the French Huguenots, settled in what is now a large part of Savannah Lakes Village, so they have always had a connection to McCormick County. As Michael stated in his bio, they bought the first lot on April 1, 1989. Some eight years ago Michael asked that she come into his office to help him catch up on back work which she thought would be a couple of days. Of course she is still around, very familiar with the area and over those years she has had the chance to meet and get to know so many of the residents of Savannah Lakes Village. She encourages  you to call her if she can be of service – 864-443-2221.