Infrastructure Of SLV
---
When choosing to live in a rural community like Savannah Lakes Village, infrastructure becomes very important. I know you'll love finding yourself in a world of wonder with the Sumter National Forest all around you, the lake meandering through the neighborhoods, the wild life plentiful, yet feeling like your living in modern times with all the modern conveniences.
Savannah Lakes offers outstanding infrastructure throughout the village. There are 6 subdivisions within our village all having  paved streets, underground utilities, fiber-optic high speed Internet and digital entertainment, as well as county water and sewer. You do not have to give up a thing when you choose to live here.
Underground Electrical Service
Underground electrical lines are run throughout Savannah Lakes Village, with hook ups readily available for all undeveloped home sites. The Little River Electrical Coop (a member of the touchstone energy coop) is the electrical service provider for the community.  Little River Electric
Fiber-Optic Broadband
All our homes have state-of-the-art technology. The West Carolina Coop offers an extensive range of communication services, including the only major fiber-optic broadband network in South Carolina. In Savannah Lakes Village, every home and home site has fiber optic at the site, ready for connection. The fiber optic broadband currently delivers up to 100MB/sec for enhanced high definition entertainment and blazing fast Internet & Wi-Fi service. The fiber optic infrastructure will also handle larger broadband widths that may be needed in the future. With stress-free and affordable access to these services, you could work from home, trading the hectic city commute and traffic for the tranquility of the lake, golf courses and forest. West Carolina Telephone
Cellular Service
The best wireless provider for our area is Verizon who provides exceptional service coverage in Savannah Lakes Village, on the lake, and the surrounding region.  Most other carriers have spotty coverage over this region of western South Carolina because they have chosen larger cities to focus coverage on. Verizon of Greenwood
Community Streets
Savannah Lakes Village includes 86 miles of county and state owned roads, providing paved access to all home sites. Streets within the community have a 25 miles per hour  speed limit, making the village streets popular for walking, jogging, golf cart traffic, and road biking. Of course there are main arteries with higher speed limits making it easy to get from one point to another.
County Water & Sewer
All home sites are equipped with McCormick County Water and Sewer hookups. Homeowners can have dual water meters, which provide a second meter without associated sewage charges for outdoor watering. As part of the community sewer system, interceptor tanks are installed during home construction process. The interceptor tank is a temporary holding tank for household wastewater that separates solid from liquid wastes and pumps the sewage into the main sewage lines that are then carried to the McCormick Sewage Treatment Plant through a series of lift stations.
Medical Center  
Welcome to Family Health care – Savannah Lakes and a new way of health care. We're still close to home and have the staff you trust, but we're a lot more than another doctor's office these days. As a part of Self Medical Group, we provide a team of doctors, family physicians and specialists, nurses and specially trained staff, all working together for your health. We provide access to advanced diagnostics and specialty services and the  resources of the area's largest health care provider – a complete network of care fo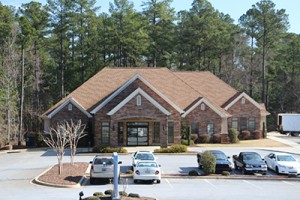 r you and your family. In addition, Savannah Lakes Medical Center offers specialty  care services on-site.
Savannah Lakes Medical Center includes both Family Health care  and Specialty Care
The medical center facility opened in 2009, offering more space and additions to accommodate on-site specialty care. Our primary care medical staff includes a board-  certified internal medicine physician and a family nurse practitioner.
The 7,855 square foot facility serves residents of Savannah Lakes, McCormick County and Lincoln County, Ga. The medical center provides modernized spaces,  upgraded technology and enhanced convenience. It is equipped to accommodate on-site X-rays, laboratory services, rehabilitation services, and additional space for  other services in the future.
There are six examination rooms for specialty care, which includes orthopedics, cardiology, plastic surgery, audiology and urology. The center also provides on-site imaging services. Appointments with specialists are scheduled with each individual practice and referrals may be required.
Savannah Lakes Medical Center accepts most types of insurance, including: Medicare/Medicaid, private insurance, Blue Cross/Blue Shield, State Health Plan and others.
Fire Department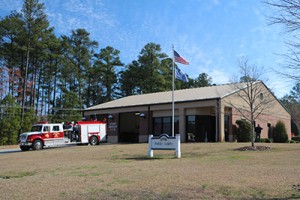 We are a fire wise community with 2 Volunteer Fire departments. They are manned and operated by 23  volunteer Fire Fighters and 9 non fire fighters.  The national  Firewise Communities program is an interagency program designed to encourage local solutions for wildfire safety by involving homeowners, community leaders, planners, developers, firefighters,and others in the effort to protect people and property from the risk of wildfire. The Firewise Communities program is sponsored by the National Wildfire Coordinating Group's Wildland/Urban Interface Working Team, a consortium of wildland fire agencies that includes the USDA Forest Service, the Department of the Interior,  the Federal Emergency Manage- ment Agency, the International Association of Fire Chiefs, the National Emergency Management Association, the US Fire Administration, the National Association of State Fire Marshals, the National Fire Protection
Association, and state forestry organizations. For more information, visit www.firewise.org.
Dock Slips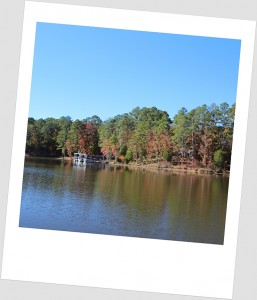 All lake front property owners are guaranteed a dock permit. You can purchase a 50 year lease  through the Property Owners association.  All docks are covered, have been pre-asssigned by the Coop of Engineers, are identical and will be in close proximity to your property.  All golf property owners and interior property owners can request a boat slip to lease on a yearly basis at one of many community boat facilities.