Lake Thurmond
---
Lots of Activities happen on Lake Thurmond that bring family and friends together. Take a peek at at a few videos of folks having fun on the lake!
Savannah Lakes Village borders 20 miles of shoreline on Thurmond Lake. Eighty percent of Thurmond Lake's shoreline is undeveloped and borders National Forest and State Parks. Wildlife is abundant on the lake and it is not uncommon to see Bald Eagles while boating. All owners of waterfront properties in Savannah Lakes Village are guaranteed a boat slip permit.
The 70,000-acre fresh water lake is the third lake in a chain along the Savannah River, an area known as South Carolina's "Freshwater Coast." The lake features 1,200 nautical miles of shoreline, which (to put into perspective) is more than the coast line of California.
Thurmond Lake is one of the southeast's largest and most popular public recreation lakes. Built by the U.S. Army Corps of Engineers between 1946 and 1949 as part of a flood control, hydro power, and navigation project. The lake is now used for recreation and fish and wildlife management. Each year, millions off people utilize the many public parks, marinas, and campgrounds conveniently located around the lake to pursue a variety of outdoor recreational experiences -making Thurmond one of the 10 most visited Corps lakes in the nation. http://www.dnr.sc.gov/fishing.html
Private use is managed through a permit/license program which allows property owners to build or install facilities such as boat docks, water and electrical lines, etc. Owning property adjoining Thurmond Project's land does not convey any exclusive rights to the use of public land, particularly in building or extending any structures onto federal property without written authorization. Such action would constitute an encroachment, which is defined as placing or the continued existence of any structure or item under, upon, in, or over the project's lands or waters and/or destruction, injury, defacement, removal or any alteration of public property including natural formations, historical and archaeological features, and vegetative growth unless authorized in writing. To assist in identifying public property lines, "witness" trees are painted with orange paint bands along the project's boundary lines. The illustrations below depict the four different types of markings and describe their meanings. Click here to read more:  Witness Trees
Thurmond Lake borders Georgia and South Carolina on the Savannah, Broad, and Little Rivers. The lake is created by Thurmond Dam located on the Savannah River twenty-two miles above Augusta Georgia and 239.5 miles above the mouth of the Savannah River. The lake extends 39.4 miles up the Savannah River, 29 miles up the Little River, and 6.5 miles up the Broad River in Georgia, and 17 Miles up the Little River in South Carolina, at normal pool elevation, Thurmond Lake comprises nearly 71,100 acres of water with a shoreline of 1200 miles.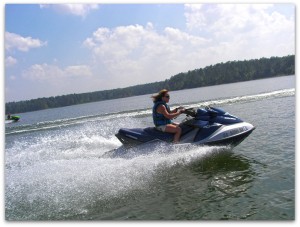 The lake offers a variety of recreational opportunities. Outdoor water-related recreation abounds at Thurmond Lake. Swimmers delight in the sand beaches and designated swim areas located in many Corps recreation areas and campgrounds along the shoreline. The lake affords the avid sports fisherman and the weekend angler equal opportunities for a rewarding fishing experience. Coves and areas of quiet water provide the water skier with excellent surfaces on which to pursue this sport not to mention those who love to jet ski. Thurmond Lake appeals to boaters of all kinds, whether their specialty is canoing, kayaking, sailing or motor boating. The kayaking club of Savannah Lakes Village even meets on the lake when there is a full moon with music in the background playing "Blue Moon". There is so much fun to be had on this lake from picnicking with your family and friends, sightseeing and all the other outdoor experiences you can imagine can be enjoyed at the many public recreation areas located around the lake or if you are lucky enough to own lake property, from your backyard!
The dam's 23 spillway Boating, swimming, fishing, water-skiing, are always the best on Lake Thurmond. Striper's are often caught in the lake along with Bass, Crappie and am array of other fish.