Our Community
---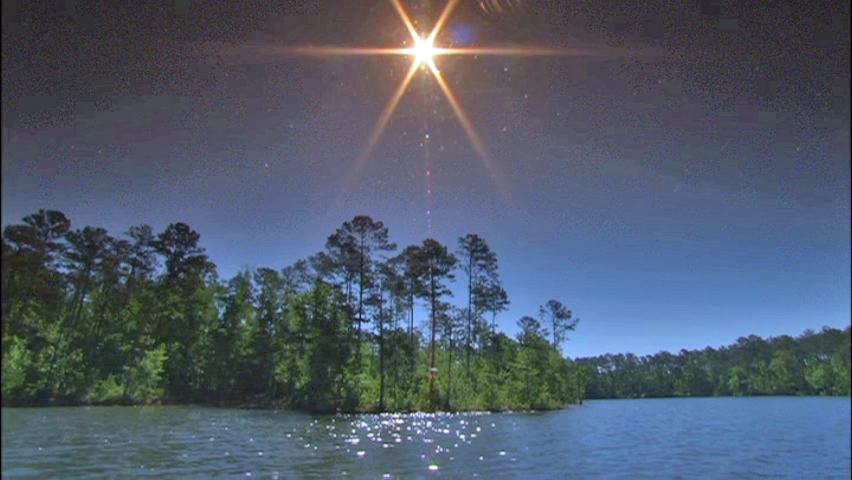 Savannah Lakes Village. A place so magical, you think you are                                  On vacation in your own backyard!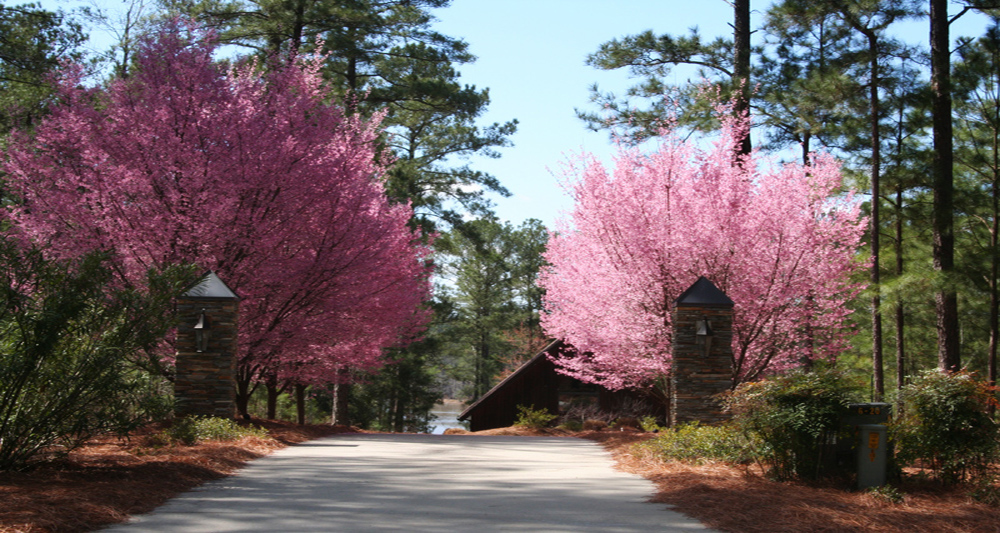 Click here to read the history of how Savannah Lakes Village was started: History of SLV
A South Carolina Active Adult, Sporting Community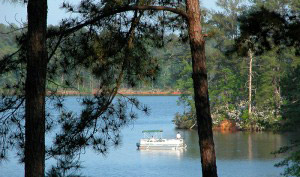 Savannah Lakes Village & the surrounding area is located on a 70,000 acre reservoir, Lake Thurmond, which separates Georgia and South Carolina. The lake is over 60 miles long, up to 120 feet deep, and has 1200 miles of shore line. Field & Stream rated Lake Thurmond as one of the best bass lakes in the country. There are no restrictions for the use of motor crafts on this lake, making it one of the best recreational lakes in the South. The water temperature is absolutely great for swimming in the summer months. Usually we see water-skiers around the second week of May until sometime in October. Because you can see land no matter where you are on the lake, it is considered quite safe for boating.
The land surrounding the lake is a wild life sanctuary with 75% of it undeveloped, National Forest, or State Parks. It took an act of congress & twenty years of lobbying to release 25% of the land on the lake for personal use. You will be hard pressed to find a lake more beautiful with all it's natural beauty that has been untouched by human hands.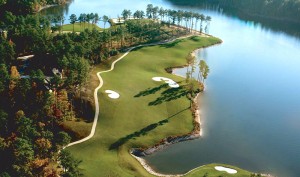 Play year round on three of South Carolina's best lake front golf courses (two member-owned golf clubs) and one at the beautiful Hickory Knob State Resort Park. Not a golfer, not to worry with so many special community events at the restaurants & clubs, or participate in daily programs and events at the Recreation center, be a spectator or try your hand at our tennis complex. You might want to go for a dip in the indoor or outdoor swimming pools, explore hundreds of miles of land and water trails or just relax on your deck.  If a healthy lifestyle with less stress, no traffic and great beauty all around you is what you are looking for, Savannah lakes Village could be the perfect match. With easy access to outdoor sporting adventures, a way to stay connected for work and entertainment with South Carolina's largest-scale fiber-optic broadband network, life could be just as you had dreamed it…
Amenities and Clubs
Staying active in Savannah Lakes Village is easy when you have an array of activities to choose from. You can be as busy as you want, or not,  it's  your choice! Now let's take a look at some of the clubs and undertakings you can choose from:
Lake Thurmond Sail & Power Squadron
The Thurmond Lake Sail & Power Squadron serves the Thurmond Lake Area of South Carolina and Georgia. The Squadron is in District 26 of the United States Power Squadron, which encompasses 12 South Carolina Squadrons and Tybee Island, Georgia. TLS&PS is a nonprofit, educational organization dedicated to making boating safer and more enjoyable by teaching classes covering a wide range of nautical subjects like: basic boating, seamanship, and many more. With 200+ members the Squadron is the largest sanctioned organization in Savannah Lakes Village. You do not have to be a resident or property owner of SLV to be a member. Members have a wide variety of water craft: pontoon boats, sailboats, personal water craft. You don't have to own a boat to be a member… Many just "catch a ride" during boating outings.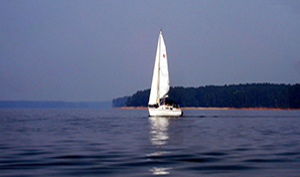 Speaking of outings: the club's motto is "Boating is fun – We'll show you how" and we do have fun! Our social calendar is filled every month of the year with dinner meetings, interesting programs, picnics, raftups, on the water scavenger hunts, poker runs and more!
Members do a lot of good in our boating community as well. They provide vessel safety checks at no charge. Boating classes for the public are taught by squadron instructors at no charge other than for materials. The squadron also provides loaner life jackets to the public. Member benefits include: discounts on boat insurance, boating goods and supplies.
Rod & Gun Club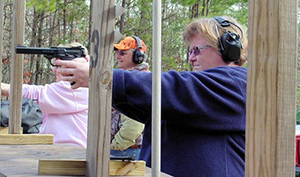 Savannah Lakes Village is central to a region rich in outdoor traditions. Being immediately surrounded by hundreds of thousands of acres of protected forest lands and the pristine Thurmond /Clark's Hill Lake, we are fortunate to have great fishing and hunting in our backyard. You can meet your local guides for striper fishing or turkey hunting within ten minutes of leaving home. Within day trip distance we have world-class sport in all directions. Our affiliated guides can put you on trophy big game, plantation quail hunts, saltwater fishing, or fly-fishing for mountain trout. If shooting sports are more your game, affiliated area sporting clay courses, skeet and trap ranges have all levels of instruction and organized shooting available for our members. Opportunities to participate in clinics and instruction to either introduce those just getting interested in sporting pursuits or hone the skills of those experience sports enthusiasts.
Pistol & Archery Range
The SLV Rod & Gun Club manages a member owned and managed pistol and archery range. The range is located on common property just north of Huguenot Parkway. The range is only open to Rod & Gun Club members and only open when a range master is on site. Range fees are $20 per person.
Savannah Valley Railroad Trail: A great walking and biking trail!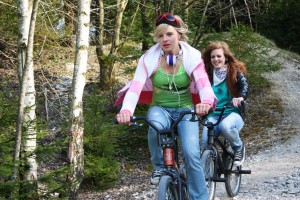 In the late 1800's the Savannah Valley Railroad connected travelers and goods to Anderson and Charleston… Today, the old railroad connects recreational enthusiasts with the beauty of the Little River & Savannah River areas. The Savannah Valley Rails to Trails project is now underway. What was once just a dream by Savannah Lakes Village residents Frank Clayton and Don Norton is now becoming a reality. Clearing of the the old railway bed is in progress on a section from Barksdale Ferry Road to Worship Site Road and from Huguenot Parkway to Willington. The proposed thirty-five mile project is located in a scenic, extensively vegetated area along the Savannah River and  Little River area. Ultimately, it will connect Calhoun Falls in Abbeville County to McCormick  County with Baker Creek, Hickory Knob, and Calhoun Falls State Parks.
The 96 District Resource, Conservation, and Development Council has a license from SC Department of Commerce to develop, maintain and operate the trail on the railroad right of way and a MOU with the US Forest Service to develop and construct a trail on US Forest Service land.
Fitness and Recreation Center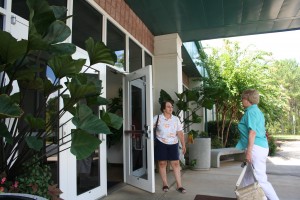 Residents and their guests will appreciate the benefits of a healthy lifestyle here in the village. The community's 23,000 sq. ft. Recreation Center is usually where everyone starts… Using the state of the art exercising equipment, it will not take long to get in shape with a great workout in the fitness room, or join an aerobics or yoga class, try your hand at swimming laps in the indoor or outdoor pools, or maybe a dance class is just what you have been looking for.
Our 2.5 million dollar health and fitness center features a tennis complex, indoor and outdoor pool, weight and exercise room, four lane bowling alley, meeting rooms for crafts and clubs, and a 500 seat multipurpose/dining room. The multipurpose room has a stage and dance floor. Full membership in the country club and all amenities are included with any purchase.
Tennis Courts
The recreation center is home to Tennis with Six lighted clay and hard courts, weekly men and women tennis groups, league play, ball machine, tennis clinics and many social events and get togethers. Our residences enjoy playing tennis year round. In 2013 every group in our tennis leagues went to the State playoffs. The Savannah Lakes Village Tennis Club (SLVTC) is growing. The organization was created for the love of tennis and the purpose of encouraging organized recreational and competitive tennis activities in Savannah Lakes Village. Most of our tennis players believe it is a "Game for a Lifetime!"
Table Tennis
Don't like the sun? Try Table Tennis. It's a moderate form of exercise and fun.
Tuesday: 9 am
Approximate calories burned: 236-345
Water-Based Fitness Programs
Foundations of Aquatic Exercise
Starts August 1 for 4 weeks, 3 -4 spaced months a year. 10:00 AM on Thursdays in the Recreation Center indoor pool.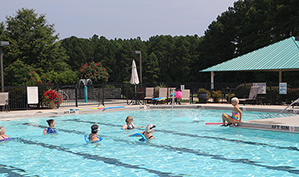 This class is for those who would like to improve their fitness enough to take water exercise class regularly. Designed for beginners to vertical aquatic exercise or who feel insecure in water, or who have become physically de-conditioned. You will develop strength, balance, flexibility and endurance.
Dr. Lucia Getsi, Certified Rehabilitation Exercise Specialist and Master Trainer, WaterART Fitness Intl.
Land Aerobics
Land Aerobics is designed to include all four types of exercise – aerobics, strength, stretching, and balance, all in a one hour session.
Stretch and Tone
Mondays: 10:15 – 11:15 am
Wednesday: 7:45 – 8:45am
Fridays: 11:45 – 12:45 pm
This class consists of about 20 minutes of stretching and toning exercises while sitting in a chair. It was designed specifically for those individuals who are not able to kneel or get down on the floor. We do about 30 minutes of upper body work with weights. Individuals select the weight that is right for them. We have participants who use no weights right up to those who use 8 or 10 pound weights. We usually have approximately 5 minutes of cardio exercise at some point during the class. This is a great class for everyone because you only do what you can. Come join us and see what you think! *Approximate calories burned: 206-302
Yoga
Yoga is user friendly.
Tuesday & Friday: 10:15 – 11:30 am
Anyone, at any fitness level, and with a wide range of personal and fitness goals, can benefit from beginning a yoga practice. Short on flexibility? Something as simple as "standing up straight" can be considered a yoga pose. All you have to do is plant your feet on the floor, bring your ankles knees, hips, shoulders, and ears into vertical alignment and…breathe…Mountain Pose. Becoming mindful of your body, while maintaining deep, steady abdominal breathing, is the heart of yoga. The more complex the pose, the harder you have to work, both mentally and physically to stay aligned. You simply must relax and breathe. Yoga can reduce stress, aid in digestion; improve flexibility, and joint mobility, which, in turn, improves posture. The yoga classes offered at the Activity Center also strengthen and tone the core muscles. These are just some of the benefits of yoga. Yoga can help ease your aches, pains, and stiffness. If you suffer from sciatic nerve or other back issues, yoga can help.
Pickleball
Tuesday 1-2 pm and Friday: 1-2 pm
Pickleball is a sport that combines the skills of tennis, badminton, and table tennis. It is played with a paddle similar to table tennis, but larger, and a wiffle ball. Anyone can play this sport. The court is about half the size of a tennis court and can be played indoors or outdoors. You only get points if you are serving and the game is won when you reach 11 points. It is one of the fastest growing activities in the retirement areas. Pickleball can be a social game or leagues can be developed to play more competitively. This sport is very good for hand/eye coordination, balance, and memory. *Approximate calories burned: 186 – 281
Dance
Do you want to dance?
Line Dancing Classes
Tuesday: 6:30 – 9:30 pm (classes take place during spring & fall)
This is a very popular class. You will learn all the latest moves, trim a few pounds, and "dazzle 'em" at the next AC party and dance. *Approximate calories burned: 266-388 (per hour).  *The caloric expenditure is an approximate number taken from the Mayo Clinic Chart for a person weighing 150 pounds for 60 minutes of exercise. The actual calories burned will depend on your weight, gender and the amount of exertion expended during the workout among other things
Therapeutic Massage
Therapeutic Massage can be an important component of your health maintenance or wellness plan. It helps keep your the mind and body functioning optimally. Sessions are provided by licensed massage therapist, Linda Williams. Appointments are available Monday, Tuesday, Wednesday & Friday. $40 1/2 hr., $65 1hr., $95 1 1/2 hr., Packages also available 5-1hr for $325 (6th massage free) or 4 1 1/2hr for $360
Quilt Club
Tuesday: Quilt Club – 1 p.m. – Recreation Center
Discussion Group
Tuesday, Discussion Group – 10 a.m. – Recreation Center
SLV Bridge Buddies
Tuesday, SLV Bridge Buddies – 12:30 p.m. – Recreation Center
Duplicate Bridge
Thursday, Duplicate Bridge – 6:30 p.m. – Recreation Center
Beginning Bridge
Wednesday, Beginning Bridge – 6 p.m. – Recreation Center
Mixed Bowling
Tuesday, Mixed Bowling – 6 p.m. – Recreation Center
Canasta | Hand & Foot
Wednesday, Canasta | Hand & Foot – 1 p.m. – Recreation Center
Pinochle Club
Thursday, Pinochle Club – 2 p.m. – Recreation Center