Savannah Lakes Village Real Estate Market Report: 2020 Quarter 1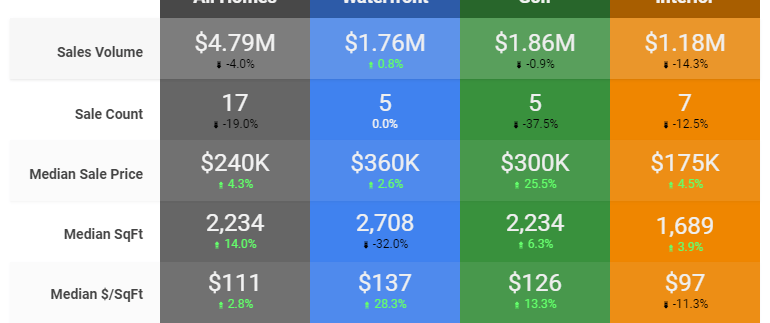 2020 Quarter 1 by the Numbers
Real Estate Market Review
15 resale homes sold in the first quarter of 2020 for a total volume of $4.23 million. The median sale price was $240,000, a slight increase from Q1 last year. The median discount given from list price to sale price was 5%, within the normal range for our village.
The median price per square foot for all resale homes was $111, up slightly from Q1 of last year. The median price per square foot by lot type was $129 for Waterfront, $124 for Golf, and $97 for Interior homes.
The breakdown of homes sold by lot type in the first quarter of 2020 is 4 Waterfront, 4 Golf, and 7 Interior homes. Golf homes topped volume with $1.65 million in sales.
Monthly Analysis
February was the top performing month of the quarter, with 8 homes going under contract and $2.39 million in volume. March was second with 5 homes going under contract and $1.34 million in volume, followed by January with 2 homes going under contract and $495k in volume.
Savannah River Realty listings accounted for over $2 million of the $4.22 million in volume of resale homes sold, leading the SLV market by a significant margin. Savannah River Realty listings sold with only a 3.04% discount given on average, well below the overall average of 5.75%. Once again, Savannah River Realty home listings have outperformed all other agencies in the area.
Sales by Savannah River Realty were also strong with $1.45 million in volume as selling agency. Savannah River Realty continued to lead the market in both listing and selling performance in the first quarter of 2020.
The 2020 housing market has been a challenge to say the least. Here is our forecast for 2020.
We Predict Prices will Keep on Rising
Savannah River Realty predicts home prices will continue their climb upward, largely due to tight inventory and high demand.
Without more listings coming on the market, Savannah River Realty believes this shortage in resale inventory will contribute to higher home prices as long as the demand continues.
If you are considering selling your home, we are still in a seller's market and it's the perfect time to list your home.
If you have been sitting back waiting for the right time, as you can see from the reports above, this could be a great time to get your home on the market. Feel free to call us anytime for a free comprehensive analysis of your home.
Savannah River Realty keeps detailed records on all sales in Savannah Lakes Village, which is important to know when pricing a home in order to get the best possible value for a seller. We have the experience needed to get your home priced correctly and sold. Our undeniable knowledge of the village and expertise in presenting the village and homes to prospective buyers is one of the secrets to our success. Our 30 years of marketing and selling in SLV can not be undervalued, it's what gives us an advantage over the new companies that are coming into the village.
Thanks to those of you who have already chosen to work with Savannah River Realty. Let us know if there is anything we can ever do to assist you further. Please remember some of the free services we offer at our office are: Notary, faxing, and copies, stop in anytime.
AND… whether you're thinking of buying, selling or financing real estate, or just want to stop by and say "Hi," we'd love to hear from you!