Savannah Lakes Village Real Estate Market News: September 2019 Recap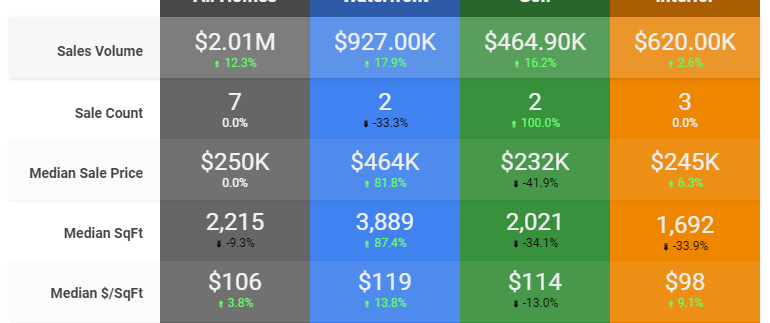 Monthly Real Estate Market Report – September 2019
September 2019 was a strong month for resale home sales in Savannah Lakes Village, with 7 homes going under contract worth a total of $2.01 million. There were 2 Waterfront, 2 Golf, and 3 Interior home sales in September.
The median price for homes going under contract in September was $250k, unchanged from August.
September 2019 volume of $2.01 million was up 12.3% from August 2019 volume of $1.79 million, and up from September 2018 volume of $1.78 million.
The Median discount for September was 4%, within the low end of the normal range and a signal that this is potentially still a seller's market. Inventory is low and buyers are willing to pay a premium for the right home.
Real Estate Report Year to Date (Jan – Sept 2019)

September 2019 sales volume topped the previous month and also September of the previous year. Our total year to date volume is up to $17.95 million, surpassing 2018 volume for the same time period. This puts us back on track for a record breaking year, as 2018 was the highest volume year ever.
69 resale homes have gone under contract for the year to date so far; 23 Waterfront, 15 Golf, and 31 Interior.
Savannah River Realty listings accounted for 22 sales and $6.9 million in volume so far this year, more than double any other listing agency.
Median home prices have continued to rise for the year and are currently at $351k for Waterfront, $255k for Golf, and $185k for the interior.
Timing of Buying and Selling a Home
One of the questions I've been asked frequently over the last year is, "Is now a good time to be selling or purchasing real estate with all the talk of recession and a possibility of a housing downturn?" With your home usually being your largest investment, it's no wonder that potential homebuyers as well as seller's are worried and want to avoid making a costly mistake.
Depending on where you are getting your information from, no one seems to agree. Will there actually be a recession or not? Will it be a few years before a recession hits or are we on the brink right now? Will it be across the United States or just in certain areas? And more importantly, will it make real estate prices drop?
Difficult questions to answer. So, what should you do?
The first thing to realize is that a recession is always coming. Anyone who owns real estate will weather any number of recessions over many years of ownership.
Always remember, there are opportunities and deals to be had in every market, knowing how to recognize those opportunities is the answer.
SRR's data suggests that a recovery could be underway in the resale of pre-existing homes. With average mortgage rates fluctuating on the lower side for several consecutive months (between 3.5% and 4.1%) we believe it is an enticing factor for homebuyers once again.
A shortage of homes for sale has been pushing up prices across the US, and we are certainly seeing that here in Savannah Lakes Village. The median sales price Nationally in August was $278,200, up 4.7% from a year ago. Our median home prices in SLV are still lower than the national averages and a great deal for most home buyers compared to where most folks are coming from.
Need to sell your home?
We'd love to help!
Why List with Savannah River Realty?
Savannah River Realty listings accounted for over $6.99 million of the total and $17.95 million in resale home volume this year, more than double any other listing agency in the area!
Listing with us will ensure your home gets maximum exposure, higher net proceeds, hassle free progression of the listing and selling process, and even staging assistance.
Consider the Advantages You will Receive when You List with Us at Savannah River Realty:
Savannah River Realty gives every home we list maximum exposure to the maximum number of interested and capable buyers. Some agents think entering your home into the MLS is all they need to do. When you list with Savannah River Realty, your home will be on Zillow, Trulia, Facebook, Twitter, YouTube and so much more.
Savannah River Realty knows how to build desire for your home by educating all interested prospects of the unique features and lifestyle benefits your home has to offer. Our walk through videos and brochures of your home are great examples. We don't just stitch photos together and call it a video, we do the real thing and make videos with narration to boot.
Savannah River Realty are experts in negotiations, helping you get the highest possible sale price for your home. Look at our record and you will be assured that we work hard to price our homes right and make sure more money stays in your pocket.
Savannah River Realty offers staging assistance to you and helps you showcase your home in the most effective ways to garner the most positive impressions from buyers.
Savannah River Realty has a proven marketing strategy and material you can look at. We offer a modern and easy to use website, the latest internet marketing practices, professional photography, brochures, DVDs, newsletters, social media postings, Vimeo video, drone videos, networking, mail outs and more.
Savannah River Realty is the oldest operating brokerage firm in our area. Our listings accounted for over 38% of all resale home volume in SLV so far this year. We also had one of the lowest average discounts off List Price with just 3.59% on average, that means more money in your pocket!
Our brochure, newsletter, DVD, blogs, and updates go out to thousands of prospects each month. We offer marketing on Zillow, Trulia, Yahoo, and our user-friendly website screalestate.com. Go take a look at any of our advertised marketing strategies, and you will see why listing with us is a good choice.
Inventory is still very low. If you have been considering selling your home or you just want some information about its possible value, now could be the perfect time. Call us today for a free comprehensive home evaluation, there's no obligation and you may be surprised to learn about the value of your home.
Call Savannah River Realty 864-443-2220 or email us today to learn about our extensive marketing program. We go the extra mile for each client and ensure exceptional services. We make sure your experience with us is second to none!
Warmest Regards,
Theresa Bryan
Bob Bryan – Broker in Charge, Owner
Savannah River Realty Inc.