Savannah Lakes Village Q1 2019 Real Estate Market Recap

Closing out the first quarter of 2019, we see some impressive volume in resale homes with 18 homes and just under $4.7 million going under contract in Savannah Lakes Village. This is not quite as high as last year where we had 30 homes and $6.8 million at the close of Q1 2018, however it is substantially higher than Q1 2017 where we had only 9 homes and $1.8 million in volume.
The average prices of homes sold by locale have been $353,200 for waterfront, $239,714 for golf, and $179,000 for interior. In total there have been 5 waterfront homes sold, 7 golf and 7 interior. The average price per heated square foot ($/HSF) for 2019 so far is $113 for Golf (up from $109 in 2018), $111 for interior (up from $96 in 2018), and $104 for waterfront. The waterfront $/HSF so far is a bit skewed due to 2 of the 5 sales being very large homes with HSF that may have included some unfinished but heated/workshop areas. We think the waterfront price per HSF is likely to trend more towards the 2018 average of $115 and higher.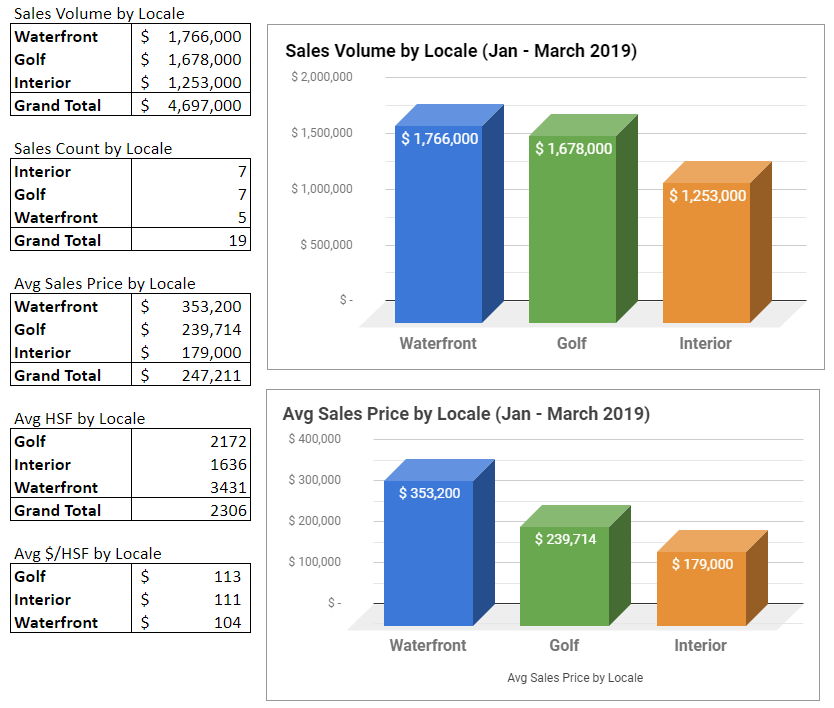 Q1 2019 has been phenomenal for Savannah River Realty, leading the market in resale home volume for Savannah Lakes Village for the 11th straight year in a row. We're incredibly proud to be part of this amazing community.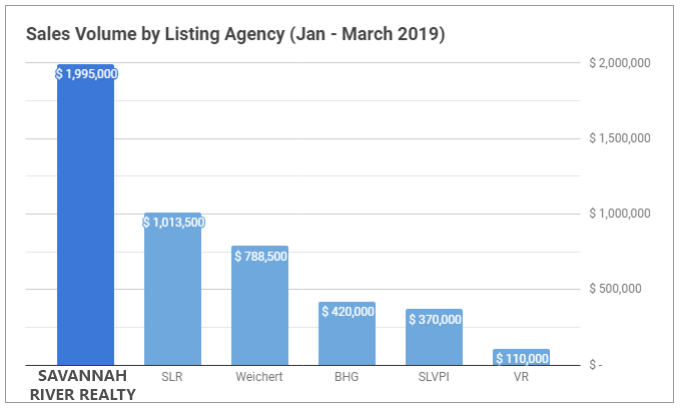 Savannah River Realty listings accounted for just under $2 million of the nearly $4.7 million in resale home volume so far this year.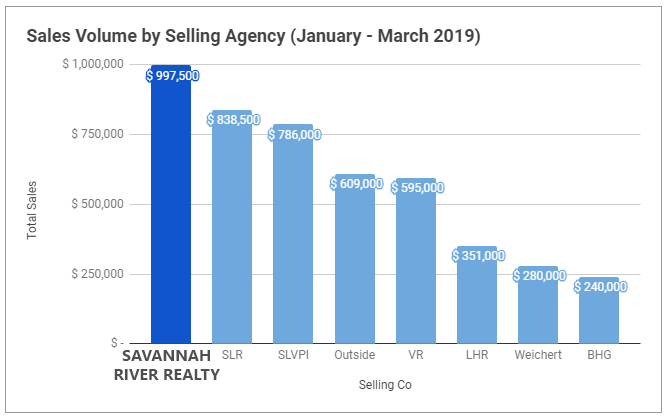 Savannah River Realty sold just under $1 million of these resale homes.
We still believe that the violent storms and cold weather throughout the nation caused the slow down in January and February 2019. As we have seen in the past, there is still plenty of time to play catch up and exceed last year's sales. Keep in mind we are only talking resale homes here, not new builds.
Looking forward, Spring is in the air and homebuyers are coming out of hibernation. With the holidays over and the weather warming up, it's the time of year that's typically considered a hot period for the housing market.
Warmer weather brings more active buyers. We Can Help You Get a Head Start!
There's still time to get your home on the market this spring to take advantage of the growing number of interested buyers. Successfully reaching potential buyers requires a bit more work than just an online listing, and it's best to get started sooner rather than later. This is where our expertise comes in.
Price your home correctly. We know the market and can help. Records tell it all and Savannah River Realty has been keeping those ever important statistics for twenty plus years.
Photography. This is one of the most important aspects in selling your home. It doesn't matter how perfect your home is—if your listing photos don't stand out, potential buyers won't make appointments to take a look. We have you covered though with the most advanced equipment, editing software, and know how in making your home stand out from the others. Let us make sure your listing pics highlight your home's best assets.
Staging. You only get one chance to wow a buyer so don't leave it to chance to make that first impression unforgettable. It's smart to have an expert eye come and look through your home room by room and make suggestions. This is a free service SRR offers and I promise it will make a difference.
If you have been considering selling your home, call us today for a free no-obligation comprehensive home evaluation. We look forward to hearing from you!
Warmest regards,
Theresa Bryan
Bob Bryan – Broker in Charge, Owner
Savannah River Realty Inc.
https://screalestate.com