Savannah Lakes Village April 2019 Real Estate Market Recap

Here's what's happening in your neighborhood.
The month of April was phenomenal for the real estate market in Savannah Lakes Village. As storms and bad weather subsided, we felt the energy and activity pick up here in the village. April saw nearly $2.9 million in resale homes going under contract, up from just under $2.25 million for the previous month.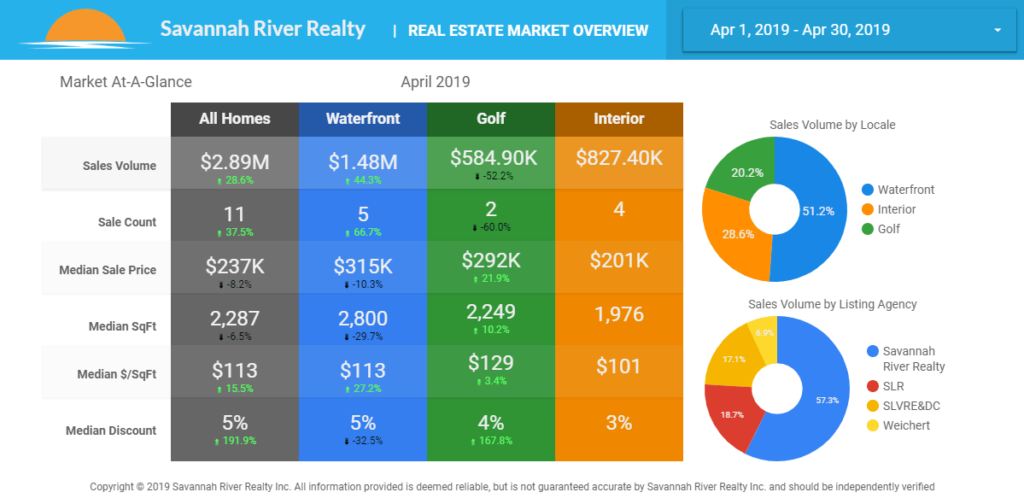 April 2019 saw 11 resale homes go under contract, up from 8 homes in the previous month of March, and up from 3 homes in April 2018. Of the 11 homes sold in April, 5 were Waterfront, 2 Golf, and 4 Interior homes. 5 of the 11 resale homes that went under contract in April were Savannah River Realty listings.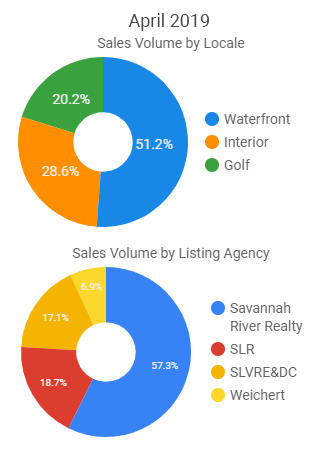 Lot sales also seemed to be on the upswing. It's been a long time since the village has seen waterfront and golf lots sell at a price reflective of their worth. So far this year the highest lot price sold on waterfront was $120,000, $30,000 golf and $10,000 interior. As we have been predicting all along since our resale home inventory is shrinking people are starting to look at lots again.
Real Estate Report Year to Date (January-April 2019)
The first quarter of this year that closed in March fell a bit short of matching Q1 last year, however the month of April was so good we have now pulled ahead of the previous year in resale home sales volume. From January to April 2019 we had $7.57 million in resale homes go under contract. This is up from $3.21 million for the same time period two years ago in 2017, and $7.42 million for the same period in 2018.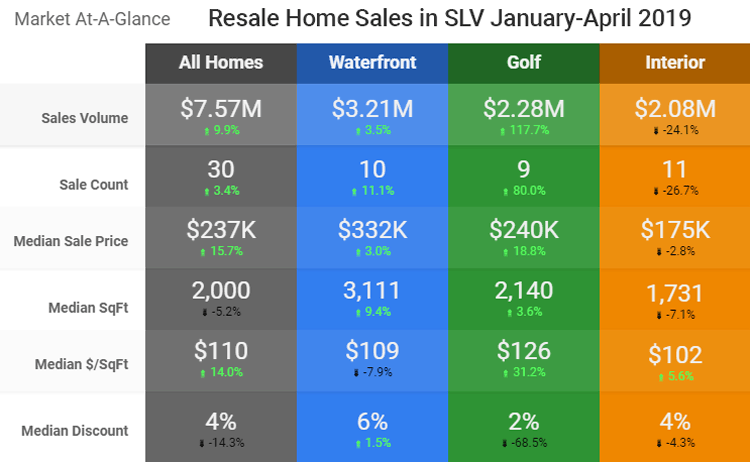 Median sales prices for resale homes have risen across the board, to $331k for Waterfront Homes, $240k for Golf Homes, and $237k overall in Savannah Lakes Village. This is a significant increase from the 2018 median sales prices for the same time period of $280k for Waterfront, $204k for Golf, and $185k overall.
All these numbers look to be setting Savannah Lakes Village up for another record-breaking year in real estate. Last year was the best year we have had in over 10 years, and this year we are looking to do even better.
January – April 2019 continues to be phenomenal for Savannah River Realty, leading the market in resale home volume and volume of listings sold for Savannah Lakes Village for the 11th straight year in a row. We're incredibly proud to be part of this amazing community.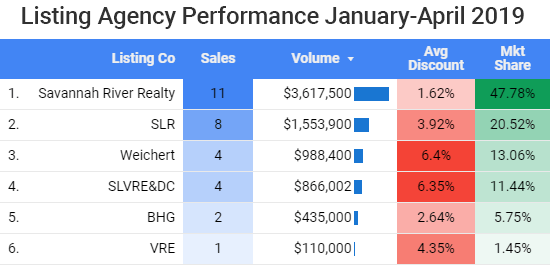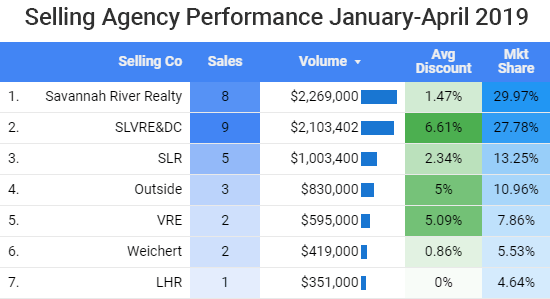 We need your home listing!
Inventory is very low, if you have been considering putting your home up for sale or just getting some information about its possible value, now may be a perfect time. Call us today at for a free comprehensive home evaluation, there's no obligation and you may be surprised to learn about your home's value. 864-443-2220
Why List with Savannah River Realty?
Savannah River Realty listings accounted for over 47% of resale home sales volume so far this year and had the lowest average discount off List Price to Sale Price of any listing agency with just 1.62% on average. That means more money in your pocket!
Successfully reaching potential buyers requires work so why not use the market conditions to your advantage. Our community is on the cusp of moving into a seller's market.
A few key factors in determining if we're in a seller's market:
Home prices over time. Rising home prices over time is a sure sign of a seller's market. Look at the figures we have provided and you'll see the data shows this is happening now.
When demand exceeds supply, or there are more buyers seeking to purchase properties than there are available homes on the market. With less than 70 resale homes listed, we are approaching this scenario.
Fewer discounts are given on acceptance of an offer to list price. Again, look at the data above and you will see a significant change in this area as well.
Our brochure, newsletter, DVD, videos, blogs, and updates go out to thousands of prospects each month. Add in marketing on Zillow, Trulia, and Yahoo, as well as our modern, user-friendly web site and you can see why listing with Savannah River Realty is a good choice.
Selling your house in the summer is a very good choice also!
Don't miss out on this opportunity, get your home on the market as summer is upon us. It's the time of year that's typically considered a hot period for the housing market. Warm weather, and simply having more hours of sunshine makes a difference. The ability to get out on the lake or play golf is very attractive to most people. It gives them the chance to experience what it would be like living in Savannah Lakes Village first hand.
Contact us today to learn about our extensive marketing program.
Warmest Regards,
Theresa Bryan
Bob Bryan – Broker in Charge, Owner
Savannah River Realty Inc.
SCRealEstate.com Website
4503 US Highway 378 West, Mc Cormick, SC 29835
864.443.2220
Copyright © 2019 Savannah River Realty Inc. All information provided is deemed reliable, but is not guaranteed accurate by Savannah River Realty Inc. and should be independently verified.