L15 B24 Louisa Ln, Monticello Mc Cormick, SC 29835
Sold
$20,000 - Golf Lot
Property Video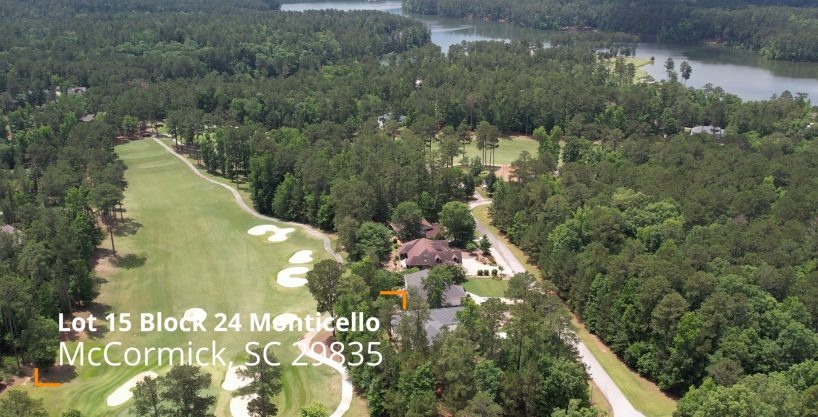 Property Information
Just Reduced
What an excellent price on a golf lot located on the famous Monticello Golf Course. With .352 Acres,  there is plenty of room to build the home you want.  There is no time limit to build. Country club membership is included with your purchase. Savannah Lakes Village is an active adult community.  There are lots of clubs already established so come and join the fun. Surrounded by water, State Parks, and the National Forest, you could not choose to live in a healthier place.
Savannah Lakes Village Amenities:
Owning property within Savannah Lakes Village includes membership to the community-owned golf clubs, amenity centers, outdoor amenities, as well as activities and programs. The resort-like amenities begin with the 23,000 square-foot Recreation Center. Some consider it the hub of social and physical activity as it includes multi-purpose rooms, a ballroom, and a fitness center complete with an aerobics studio and indoor pool. The Recreation Center has a bowling alley and outdoor pool to accommodate your fitness routine. There are two 18-hole golf courses available to residents as well. The Monticello Golf Club has a clubhouse with the Monticello Bar & Grill restaurant and the Tara Golf Club includes a clubhouse and River Grille restaurant. Both clubs include golf practice facilities as well.  Savannah Lakes Village is an outdoor adventurer's paradise that offers 25 miles of shoreline along Lake Thurmond. This 71,000-acre lake can be used for fishing, boating, kayaking, and more. There are parks and miles of trails for walking, biking, and hiking. Those with a competitive spirit can meet neighbors for tennis, Pickleball, bocce ball, or horseshoes – all found at the Recreation Center.
Savannah Lakes Village Lifestyle:
With over 40 clubs and regularly planned activities, residents of Savannah Lakes Village can find an activity that sparks their unique interest. Game groups meet to play bridge, canasta, euchre, table tennis, and more. Plenty of fun events are offered like a pancake breakfast, planned trips and excursions, holiday parties, as well as hosted plays and concerts. Art classes, gun clubs, book discussions, yoga classes, and bowling are just a few ways to find a new hobby or meet new friends based on common interests.  There is an abundance of recreational activities throughout Savannah Lakes Village like water skiing, sailing, canoeing, hunting, fishing, biking, hiking, and more.