Savannah Lakes Village May 2019 Real Estate Market Recap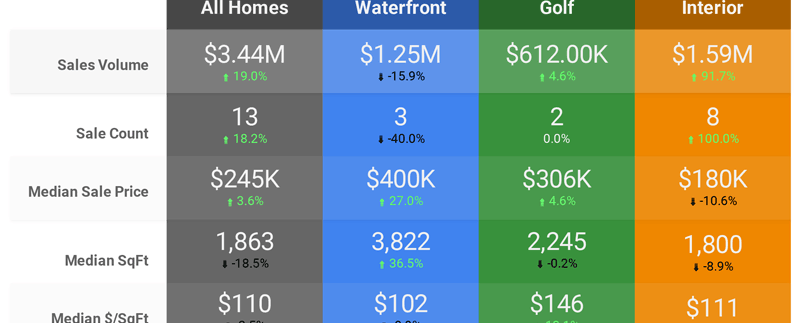 Here's what's happening in your neighborhood.
The month of May did not disappoint for the real estate market in Savannah Lakes Village. The data is phenomenal, May produced 13 sales totaling $3.44 million. Sales volume in May was up 19% compared to April. Of the 13 homes sold in May, 3 were Waterfront, 2 Golf, and 8 were Interior homes.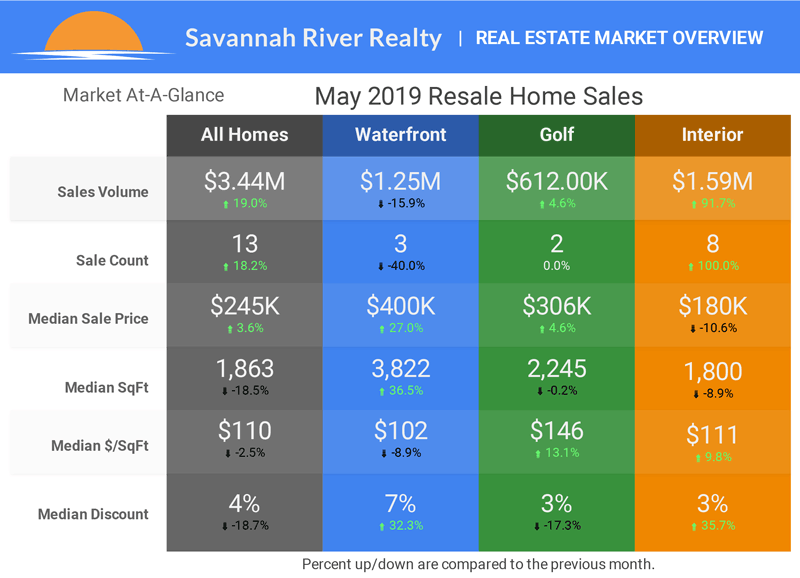 (click the above image for a larger version)
Last year in May there were only 4 sales amounting to $937k. Momentum is continuing to build and 2019 is shaping up to be another record breaker.
Real Estate Report Year to Date (January-May 2019)
While the year started off slow for real estate in Savannah Lakes Village, after May we have already exceeded the previous year in overall volume and number of homes sold for the same time period.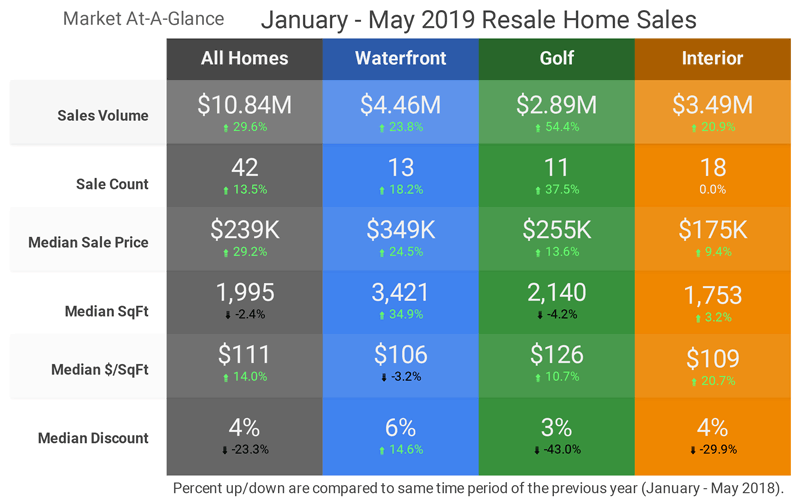 (click the above image for a larger version)
Total sales volume from January to May 2019 was $10.84 Million. This is up 29.6% from last year during the same time period where sales volume was $8.36 million.
Median sales prices for resale homes have risen across the board and are currently $349k for Waterfront Homes, $255k for Golf Homes, and $175k for interior homes. The overall median home price in Savannah Lakes Village has risen to $239k, a 29.2% increase from the same time period last year, where the overall median price was $185k.


(click the above image for a larger version)
Lot sales are still on the upswing. Interior lots are selling more than anything else, however we are also seeing some waterfront and golf lots selling as well. As we have been predicting, our resale home inventory is shrinking and people are starting to look at lots to build on. There have been 34 new home starts this year, 10 of those are Ivey and Key Stone builders.
The overall sales figures for 2019 are telling us that Savannah Lakes Village is on track to set another record breaking year in real estate. Last year was the best year we've had in over 10 years, and this year may turn out to be 20-30% better if current trends continue.

(click the above image for a larger version)
We need your home listing!
Why List with Savannah River Realty?
Savannah River Realty listings accounted for over 44% of resale home sales volume so far this year, and had one of the lowest average discounts off List Price of any listing agency with just 2.24% on average. That means more money in your pocket!
A few other things to consider:
It is important that the Real Estate company you choose to list your home has an office where you are selling your property, not in another town or another state! The reason's are apparent & numerous.
Savannah River Realty has been in the same location, Highway 378 West since 1999.
Savannah River Realty is the oldest real estate agency in Savannah Lakes. We worked with the developer from the beginning and have taken great effort to maintain the standard of excellence Cooper Communities demanded.
Our sales records over the years in your community will show we have been the number 1 listing and selling agency for over 10 years in a row. SRR would be proud to show you our records.
SRR has a proven marketing strategy. We have quality marketing material you can look at. We have a modern and easy to use website and offer many other marketing practices, including professional photography, brochures, DVD's, newsletters, social media postings, Vimeo video and drone producing videos, networking, mail outs and more.
Don't Miss this Opportunity, Sell Your Home this Summer!
Inventory is very low, if you have been considering putting your home up for sale or just getting some information about it's possible value, now may be the perfect time. We offer free comprehensive home evaluations, there's no obligation and you may be surprised to learn about your home's value.
Our brochure, newsletter, DVD, videos, blogs and updates go out to thousands of prospects each month. Add in marketing on Zillow, Trulia and Yahoo as well as our state of the art, user friendly website and you can see why listing with Savannah River Realty is a good choice.
It's not too late to get your home on the market this summer. It's the time of year that's typically considered a hot period for the housing market. With the lake full, the golf courses looking exceptional and the ability to get out on the lake or play golf, it gives us the opportunity to show buyers why our community is so special. Savannah River Realty knows how to give buyers a chance to experience what it would be like living in Savannah Lakes Village first hand. If they are looking at lakefront we will get them out on the boat, make tee times for them if they love golf and overall give them an experience that will be hard to forget.
Call Savannah River Realty 864-443-2220 or email us today to learn about our extensive marketing program.